24-Hour Timer
Set the unit to start and stop automatically in a 24-hour period.
Air Flow Panel
360° air outlet creates a soft and gentle air flow, which circulates uniformly throughout the space and provides a more even temperature distribution in the room.
Auto Defrosting
Prevents the evaporator from freezing and maintains dehumidifying effect in low temperature environments.
Auto Restart Function
If the unit shuts off unexpectedly due to a power outage, it will restart with the previous settings automatically when the power resumes.
Basepan Heater
In colder climates, the built-in basepan heater connects to your system to prevent ice from forming on the base and in the pan drain of your outdoor unit.
Convenient Temperature Controls
An intuitive, easy-to-use remote control displays temperature and other functions on a bright, clear LCD screen.
Ductless/Mini-Split System
Ductless Systems generate climate-controlled air without using ductwork. These units are minimal in design, taking up less space than ducted systems, and eliminating inefficient ductwork.
Eco Mode
Provides energy savings and a comfortable sleeping environment with an intelligent eight-hour night cycle program.
Extra Low Temperature Heating
When it's cold outside, it's warm inside. High Tier and Mid-Tier ductless systems can be used as a primary heat source in most climates, with heat output down to -22° F.
Flexible Air Intake
The air inlet can be installed either at the back or bottom of the Ducted unit, allowing for flexible installation to meet the needs of each job.
Follow Me
A temperature sensor built-in the Remote Controller will sense its surrounding temperature. The unit will adjust the room temperature more accurately to give you comfort.
Heating Seasonal Performance Factor (HSPF)
HSPF measures the heating efficiency of a heat pump. Just like the SEER number for cooling efficiency, the higher the HSPF number, the more efficient the heat pump is, and the more money you save keeping your home comfortable when temperatures are low.
High Ambient Cooling
The indoor space can be cooled to a desired, comfortable indoor temperature, even when outside temperatures reach up to 122° F.
Independent Vane Control
Air flow direction from individual outlets can be controlled separately to achieve the optimal air flow based on a room's configuration.
Inverter Technology
With the Inverter, the outdoor unit uses only the energy required to meet the desired temperature requirements of the indoor unit, thus helping to reduce electricity costs.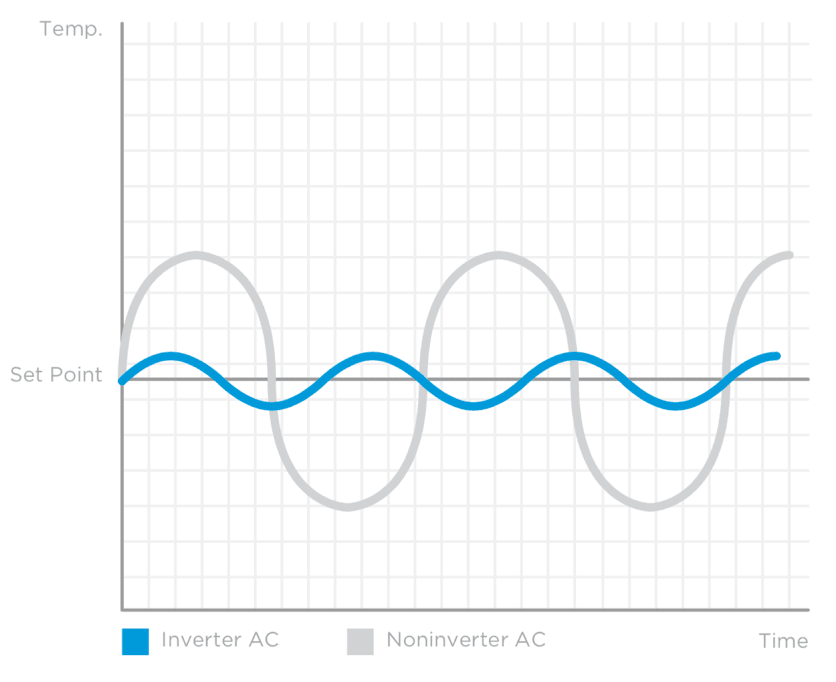 Louver Position Memory
A horizontal louver will automatically move to the same position that was set the last time the unit was on.
Low Ambient Cooling
Even when it's cold outside, but warm inside, the air conditioner will keep the area cool — perfect for server rooms and commercial kitchens.
Outside Air Intake
The indoor ducted, cassettes and consoles are able to mix fresh air from the outside with existing room air to improve indoor air quality (IAQ).
Refrigerant Leak Detection
The indoor unit shows error code "EC" and stops automatically when refrigerant leakage is detected. This protects the compressor from high temperature damage due to refrigerant leakage.
SEER (Seasonal Energy Efficiency Ratio)
SEER measures the cooling efficiency of air conditioners and heat pumps. The higher the SEER number, the greater efficiency for your unit and the higher your energy savings will be.
Stepless Frequency Adjustment
Precise control maintains a stable and constant room temperature while reducing the sound level and helping to conserve energy.
Single and Multi-Zone Compatible
A single zone outdoor unit can be paired with any indoor unit type. One multi-zone unit can be leveraged for up to five indoor units of any style.
Sleep Mode
This function enables the system to automatically increase cooling or decrease heating by around four degrees for the first two hours, then holds steady for the next five hours. After that, it will switch off. This function contributes to increased energy conservation and comfort at night.
Universal Matching
Get installation flexibility with up to five different indoor units connected to one outdoor unit. Maintain a different temperature in each room for customized comfort, with the best indoor unit choice for each. Universal matching units are also available for single zone outdoor units. One outdoor unit can match any type of indoor unit.
Wired Remote Controller
Compared to an infrared remote controller, a Wired Controller can be affixed on the wall and makes air conditioner operation more convenient for larger setups or Ducted units.