A Flexible Solution That Unites the Best of Both Ducted & Ductless
A ductless system that leverages existing ductwork, the Midea Air Handler is the perfect replacement for aging or failing furnaces. The unit can connect to both single and multi-zone outdoor units — and you can add up to four additional indoor ductless units that can be controlled individually. All so you can enjoy the benefits of ductless technology without completely overhauling your current systems.

Energy Efficient
Experience the right airflow volume in each space with a unit that automatically adjusts based on the ducting length.
Quiet Operation
Create more peaceful, comfortable spaces with ultra-quiet operation that reduces noise pollution.

Independent Zoning
Control temperatures across independent zones or spaces for maximum comfort and control.

Easy & Flexible Installation
Install the unit vertically or horizontally for multi-directional air flow possibilities and increased flexibility.

Third-Party Thermostat Compatibility
Experience seamless integration — without extra kits — with a built-in 24V interface that's compatible with third-party thermostats.
Versatile Outdoor Units that Keep You Comfortable Indoors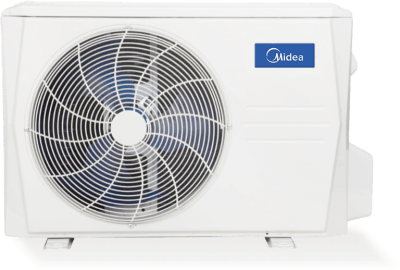 Every Midea Ductless solution includes an outdoor unit, which is the lifeblood of the system; it provides the efficiency, extreme temperature performance and many other unique benefits of Ductless Systems.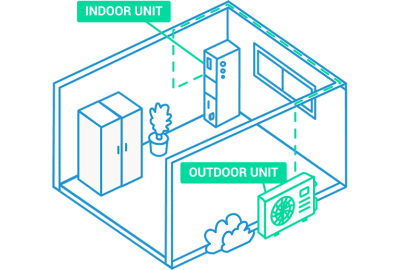 And we offer two types: the single zone and the multi-zone. The single zone unit connects to a single indoor unit and room, whereas the multi-zone option can connect to up to five indoor units. Both systems are nearly the same size and can be placed anywhere outside of the home — even on a roof or balcony — for maximum flexibility. And they're smaller, and produce less noise, than most traditional HVAC outdoor units. They also come with a basepan heater to ensure effective operation in extreme temperatures (from -22° F to 122° F) without the extra parts or labor required for traditional outdoor units.
Other Midea Ductless Solutions